A Bathroom Remodeler Dedicated to Customer Satisfaction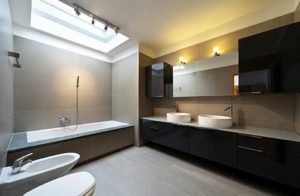 Are you planning to remodel your master bathroom? Do you want to make sure that your project will be completed in the most timely and efficient manner possible by a qualified bathroom remodeler? If so, you can have peace of mind knowing that Eye for Perfection Building Co. will coordinate every aspect of your remodel with quality workmanship and outstanding customer service. We provide the residents of Newark, DE with everything they need to achieve their renovation dreams. With more than 40 years of industry experience and unwavering commitment to attaining 100% customer satisfaction, we are sure to meet your needs and exceed your expectations.
Local Bathroom Remodeling Service in Newark, DE
The bathroom is a place to relax, kick back, and forget about any worries you may have. A long bath after a stressful day at work can do miracles! For guests, the bathroom is a room that needs to be well-organized and welcoming. Over the years, we have completed countless of projects, leaving a respective number of pleased clients behind. Making sure that every project is perfectly completed is our trademark. The bathroom remodeling process begins with sharing your vision for the new space with us and ends with your complete satisfaction. As the bathroom remodeler of choice throughout the Newark, DE area, we know what it takes to get the job done right the first time.

Whether your project includes renovating only part of your existing bathroom or completely changing the entire layout, our qualified and skilled crew will be totally prepared. We have the expertise, experience, skills, and expertise to provide you with the space of your dreams, whether it involves a bathroom or kitchen remodel. We welcome any questions, so be sure to get in touch with us today! You can reach Eye for Perfection Building Co.'s polite and friendly customer service agents at (302) 731-5727, and we will schedule a consultation appointment at a time convenient for you. We are the remodeling contractor you can count on!