very useful ideas to refresh your bathroom without spending a fortune.
Why Calling a Bathroom Remodeler?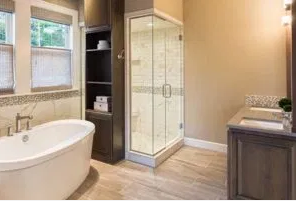 Ask your bathroom remodeler to tile your countertop, this is one of the best alternatives to a stone top. Moreover, you can paint the edgings to go with your wall paint or decoration.
Rather than replacing your old iron bathtub, you can call a professional to refinish the fixture, it will look brand new, and with a couple of retouches, it will make a big difference. If you have a wooden flooring in your bathroom, with a fresh coat of paint, it will look cleaner and brighter. A very effective way to brighten up the bathroom is by adding a wooden frame to your mirrors. If you want to make it more colorful, you can use tiles around the mirror.
A cheap and effective update is to paint the wall in two different color tones. For example, make the upper side white and the bottom part in a pastel tone. If you enjoy having long hot baths, use battery-powered candle lights to create a candle effect without the fire hazard.
Check in your house for furniture and decoration you can reuse in your bathroom remodeling. If you have a small closet, a table or a shell that you never use, a bathroom remodeler can help you restore it, paint it in a color that matches with the decoration. So before you discard your furniture at home, ask yourself: is there another way I can use this? A dresser with missing drawers can be used to keep your clean towels in the bathroom for example.
If you are looking for a professional bathroom remodeler in Newark, DE, we are just what you are looking for! Eye for Perfection Building Co. is a professional company, so feel free to call us at (302) 731-5727.